Welcome to the Drimare Universe Wiki!

Welcome! The Drimare Universe Wiki is an encyclopedia and database for everything related to the Drimare Universe series, created and run by myself, Jay aka NE0Nbandit!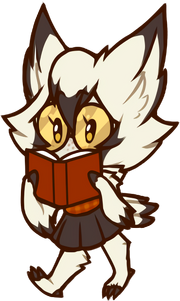 The Drimare Universe is a world located within the dreams of humans, and the Drimare are its main inhabitants spread through various different regions.
Along with this wiki, one of the main projects currently in development is the DU Webcomic, an origin story for the siblings Zelly and Blade as well as most of their friends.
The other project is the DU Friendsim, a semi-canon visual novel, updated periodically and composed of short character focused stories, which will explore various Drimare characters and their respective regions of the dream world.
As of writing this, the comic is currently on hiatus to focus on the Visual Novel and other projects, but if all goes well, it may return early/mid 2021 when I figure out a proper schedule for it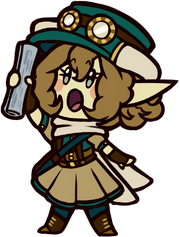 The Webcomic is early in development and is currently being posted to Tapas where you can read it, and the Friendsim is available to download for free on Itch.io.

Be sure to also follow the Drimare Universe Twitter account so you can keep up with updates, art, character and world-building ideas I'm considering, as well as other misc fun things! :)

All support is appreciated and thank you for visiting my little project! It really means a lot to me! ❤
About the Drimare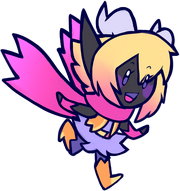 Drimare (Somnium Harenae), plural Drimare, and also known as Dream Elves, are are a vast race of humanoid beings who inhabit the world of dreams, they have an elf-like appearance, with thousands of different subspecies with varying features. Characteristic features include horns, large eyes a elf-like ears, no nose and heads floating above their necks.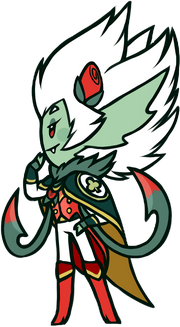 They inhabit the Dream World, built on the collective conscience of all of Humanity.
This world and their species were created by a being known as The Sandman, the First Dream, who took inspiration in the imagery from Humans' dreams, to create a realm that they could visit when they dreamed.
He then created the Drimare to populate his world, being originally failed attempts at recreating a human being, the Sandman chose to base them on the creatures and beings he saw in the dreams instead.
READ MORE ►
NOTICE FOR NEW READERS
This Wiki is currently a work in progress and likely will stay that way for a long time due to how much content I have relative to what I actually have posted here.
Ideally, I intend to archive all of my work here, but that will take a very long time. 😂
A lot the pages have placeholder text, and sometimes my goofy brainstorms are thrown in there too since, just like the DU Twitter, this wiki is also a makeshift notebook for me to dump my ideas to organize later on :)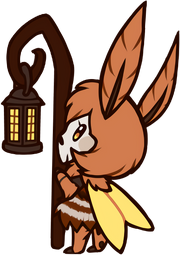 My only hope is that my goofy notes can be entertaining to read while the pages get worked on. My motivation to work on specific neglected characters or pages fluctuates a lot and I tend to go with the flow of what said motivation wants me to do that day :)
Not to mention the world-building itself tends to influence how much of a priority certain characters are. That being said, I'm always happy to answer questions about specific characters whose empty pages leave a lot to be desired 😂 And knowing people are interested, does admittedly motivate me to pick them up more~
Thank you for reading~
- Jay 💕
Helping out
This project was created back in 2010 while the Wiki itself was only founded in March of 2016, and the first comic pages were released in December of 2019!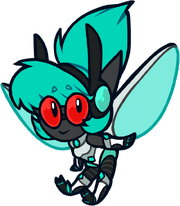 There are currently 334 articles, 1,957 images and it's still growing! :)
Despite being a personal solo project, I am not against getting unprompted help on the Wiki! There's even a To Do List page to keep track of the current tasks and future plans for the wiki!
Whether it be through fixing any awkward typos, or improving the way certain sentences are written, fixing general formatting, or adding missing character galleries with crusty artwork from my old DeviantArt account, I'm cool with it!
If you'd like to help on a larger scale, you're welcome to DM me through any of my social media, preferably my Twitter!
Wiki Affiliates
✦

✦
---
Be sure to visit these other wikis!
✦

✦ ... ✦ ... ✦
---
If we're friends or know each other and you're interested in becoming affiliates, feel free to reach out! :)

Character Birthdays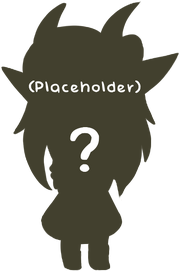 Today is Amani's birthday!
---
Featured Article
"Brew Manglecat is a cat wizard and mercenary born in the Blue Kingdom of Amaranth who is often seen roaming around the Sleep Valley and the Rem Forest while trying to sell his handmade potions and other wares."
"He owns a physical store in the Sleep Valley conveniently placed so that those who are taking the main road into Amaranth have no way to miss it. He's a chatty salesman who is just charming enough to get you to buy something you absolutely do not need."
Community content is available under
CC-BY-SA
unless otherwise noted.